Why Join WSP?
Winsheng Plastics ("WSP") is a member of the public listed Denko Group of Companies. The Company has undergone a major transformation since November 2011 with the installation of a New Management Team. Following a thorough review of the Company's strategic focus; its operations and procedures have also been revamped to align with and to prepare WSP's towards its pursuit of sustained Sales Growth and Profitability.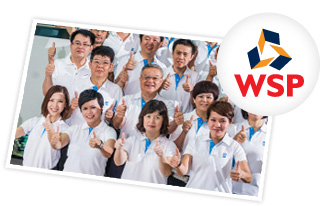 WSP is now a revitalized, dynamic, energetic and competitive ONE-STOP player in the Precision Plastics Tool Fabrication and Parts Manufacture industry. With the tag line, "We mould the future", WSP provides:
Tool Design, Fabrication and Repair Services;
Plastic Moulded, Painted and Printed Products; and
Sub-Assembly of Customers' Products.
WSP'S PERSONNEL AGENDA
WSP has invested significant amount of monies in Factory Buildings, Machineries, Plant and Equipment. With the hardware already available, we now require talented personnel at all levels and across a range of disciplines to extract the maximum productivity and efficiency from our capital investments. 
At WSP, we place strong emphasis on self-initiative and teamwork. As we are very focused on continuous improvement (in terms of quality, procedures and processes) across all segments of our operations, we provide our staff with on-the-job training and counselling which are supplemented with additional technical and personal development training (conducted by expert training consultants either in-house or externally). The planned objective is to assemble a team of trained professionals and support team whom can multi-tasks and can be empowered to assume responsibilities, whom can grow with WSP and contribute to the many decisions required to achieve the Company's goals and objectives. 
WSP CULTURE
At WSP we currently have a workforce comprising many races and nationalities. One of our key Personnel objectives is to provide a harmonious working environment where our staff has a healthy respect for each other's culture and traditions. We organize structured functions to promote tolerance, teamwork and trust and we organize fun functions to celebrate various festivals and events. We strive and encourage our staff to develop a sense of belonging to the
"WSP family"
. The tag line of our Personnel Policy is
"Work, Enjoy and Celebrate"
WSP'S STAFF REWARD PROGRAM
Responsibilities come with Accountability. For our staff that rise to the challenges and perform beyond expectations, there are various monetary based incentive and reward schemes available for them to increase their basic remuneration. These schemes are designed and benchmarked to an individual, team or the Company's performance. 
We also hold themed in-house competitions and those with creative ideas (either as an individual or as a participating team) are recognized via monetary rewards and/or published recognition.